The Burnout Revenge Soundtrack - All the Best Songs
Contents
Few games in the history of racing titles have managed to cause quite the stir that the "Burnout" series did when it released in 2005. In a dazzling display of violent explosions and blistering speeds, this game swept millions of gamers up in its excitement.
Exploding vehicles, dizzying maneuvers and all-around awesomeness made this title a true classic of its kind.
---
Consoles Burnout Revenge Was Released On
---
When this game first came out, it was released on both Playstation 2 and Xbox.
In March of 2006 a slightly updated version of the game with better graphics came out on Xbox 360.
---
Other Games in the Burnout Series
---
Burnout Revenge is actually the fourth installment in the franchise, preceded by "Burnout," "Burnout 2: Point of Impact" and "Burnout 3: Takedown".
Following "Burnout Revenge," the final creation in the Burnout series is Burnout Paradise, an award-winning open world expansion on the game's ruthless racing concepts.
---
Burnout Revenge Game Modes
---
The burnout series became famous for its emphasis on spectacular crashes. Burnout Revenge took advantage of this with modes such as "Traffic Attack" where your objective was to destroy every vehicle you possibly could on open highways.
"Crash Mode," which came out in the second installment, focuses all of your attention on producing the biggest pileup possible and "Grudge Match" missions involve getting even with rivals you've destroyed one too many times.
Besides Burnout's captivating gameplay, its stellar soundtrack proved to be one of the best any racing game has ever put together.
The lengthy round-up below is our attempt at doing the game's soundtrack justice. Some real gems and classics starred in Burnout Revenge and they're all well worth a listen.
---
OK Go - Do What You Want
---
Jolty, jittery pop punk packed with the verve of ages - does that describe this song well enough? It's good stuff.
If you're on the fence about this punchy piece of music, press play on the video. Then, you'll know.
---
Bloc Party - Helicopter
---
More rock, but fuzzy and raw and decidedly more British. Bloc Party's "Helicopter" sits particularly well with speeding vehicles.
This song injected an armful of drama into the mix mid-game, but it does plenty of the same no matter when and where you listen to it.
---
Animal Alpha - Bundy
---
Psychotic rock straight from Hell's circus of outcasts - this song is a trippy, trippy trip.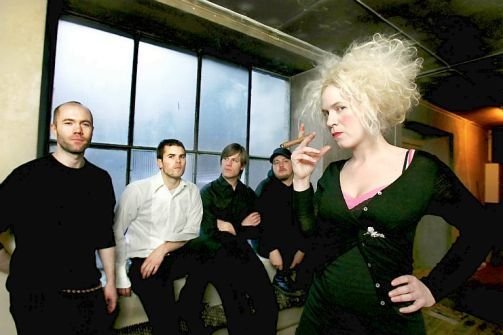 Animal Alpha's addition to the game's soundtrack was akin to a lit match's addition to a powder keg.
---
The Academy Is... - Almost Here
---
While we may never know what the academy was, the music this enigmatic pop punk band produced puts a lot of people's childhoods in nostalgic perspective.
Although the academy is no more, "Almost Here" ain't goin' nowhere.
---
Billy Talent - Red Flag
---
Billy Talent's red flag sounded like it was written to star in a racing game. Seriously, Burnout Revenge was its ultimate destiny.
This song came on and ish got real. Races that were already on were suddenly ON. Things parents and passersby told you to do were suddenly inaudible. Sorry, "Red Flag" is racing crunch time, dontcha know?
---
Unwritten Law - F.I.G.H.T.
---
For a song with "motherf$#%3%" in the verse, it's presence on an E-for-Everyone game's soundtrack is rightly deserved. The censored version was totally acceptable, ok?
Rock was definitely all the rage and F.I.G.H.T. reinforced that with ubridled rebellion.
---
Maximo Park - Apply Some Pressure
---
Almost folk in feel and entirely entrancing in effect, Maximo Park's "Apply Some Pressure" pits sense against synapse in delightful discord.
This is Burnout Revenge's best indie rock addition and a tune to turn on anytime, anywhere.
---
We Are Scientists - The Great Escape
---
And the rock onslaught continues... Burnout Revenge did not go easy on the rock music. This song rips at your psyche when the deceptively simple solo kicks in and it's all over. You're hopelessly hooked.
The end of this song is as abrupt as the speed decrease after bumping your front-end against a brick wall at breakneck speeds. Consider that the cherry on top.
---
Asian Dub Foundation - Flyover
---
There are guitars in this tune too, but it's more British drum and bass than anything else. "Flyover" is what mach 2 sounds like in song with a reggae voice-over.
This is a tough song not to like. It grows on you. Then, next thing you know, you've had it on a loop for an hour straight. Oopsie.
---
Fall Out Boy - Dance Dance
---
There's at least once case in history where we can all enjoy the fallout. "Dance Dance" is that very case.
This song is to 2005 what clouds are to the sky. It just belongs in every way. Also, it is immediately recognizable no matter how big of a pileup your reckless in-game driving may have caused.
---
Goldfinger - I Want
---
This one is all energy. Goldfinger flung ska-infused rock into the fray and it made kids want to play all day.
This song may be short, but it packs quite a bit of punch into its puny playtime.
---
The Doors - Break on Through
---
The Doors need no introduction and neither does this song. The mere fact that a classic of this magnitude was included to round out the game's soundtrack says it all.
This song might as well have been nas, because you were guaranteed to go faster whenever it came on.
That's the lot of them. Naturally there is far more music to enjoy on Burnout Revenge's legendary soundtrack. Check out a few more songs in the playlist below and ride on.
---
AD:
---
This article may contain affiliate links. We earn a commission on qualifying purchases at no extra cost to you. Thanks for your support!